At Makeda, we serve a freshly prepared tasty dishes. 
Customers love our signature dishes – Avocado Salad (diced avocado mixed with tomatoes, onions, peppers, cilantro & vinaigrette) and Tuna Kitfo ( red tuna fish finely chopped and mixed with olive oil, cardamom and mitmita).
Our meat and poultry dishes are served in the form of wot, a thick stew, or tibs – a sautéed of grilled meat along with vegetables, served over Ingera – a flatbread made with either wheat or teff. 
Our beverage menu emphasizes wines, beers, top shelf liquors and cocktails.
Our bartenders are not only skilled at making great drinks but also believe in hospitality and top notch customer service.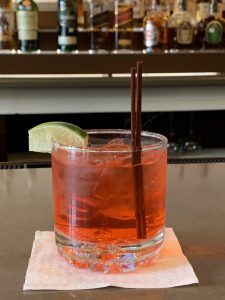 Providing the highest quality food, drink and service
Customers love our Restaurant
Fresh, flavorful and delicious food. When I asked a question about a particular flavor, our server brought us raw ingredients to look at. We had an absolutely lovely chat and felt so welcome. The dining room has a lot of natural light, and there are fresh flowers on the tables. The staff are friendly and fun conversationalists. I'm so glad we finally got a chance to dine with Makeda. We'll be back soon.
Courtney Sourmehi
Guest
My wife and I just moved to Alexandria a few months ago and were looking for a new Ethiopian restaurant to call our own. The first place we tried in Alexandria, though within walking distance and better reviews, did not impress us. Today, we decided to give Makeda a go. We loved the decor, the friendly staff and the food was excellent. My wife always gets the veggie combo at Ethiopian restaurants and she was so pleased. I had the Yebeg Kilil. I could barely stop myself from overeating. We will definitely return.
JJ Johnson
Guest
The Food is Excellent! Great service and very nice and clean restaurant, must say one of the best eth. Restaurant in Alexandria!
Hareg Taddesse
Guest
From greeting to goodbye, the service, presentation and food is great. Try the Timatim Fitfit and Tibs Wot. We'll be back!
Stacy Callahan McChesney
Guest
Photos
taken by our customers
Follow us on Social Media!
Offering authentic foods of popular Ethiopian taste
We love sharing fresh food with family and friends – nothing inspires us more. Welcome to Makeda, where you can enjoy good meals and togetherness.
Come join us!